Additional Spotlight Locations
Camp Taji, Iraq


Thank you to our friend Tab who wrote in and asked for more information about Camp Taji.
Camp Taji is an Army base about 10 miles northwest of Baghdad, the capitol of Iraq. It is named Taji after a nearby city. Many military members live at Camp Taji or a base like it while they are on assignment in Iraq. The camp has the largest PX in Iraq. It has a Subway, Burger King and Pizza Hut. Besides eating fast food, military at Camp Taji can eat at the new dining hall. The hall serves familiar foods from home such as pancakes, breakfast cereal bars, and fried chicken. If someone you know is at Camp Taji, ask them what their favorite things are to eat at the dining hall.
Soldiers have a lot to do at Camp Taji (when they are not working). In addition to the large PX, there are movie theatres and gyms. Soldiers live in air-conditioned spaces and can take showers. This may seem common to you but many military live without these things when they are deployed.
When they are working, the soldiers at Camp Taji are doing many different things. There is a large air strip at the base which means they need soldiers to do things like fly helicopters, repair jets, help planes and helicopters land, and build and maintain the air strip. Other soldiers work at some of the facilities on base to make sure everything runs smoothly. Both active duty and reservists live at Camp Taji. Men and women from all over the United States are living there together. If you know someone at Camp Taji ask them what their MOS is (MOS is their job). Also, ask them if they have met anyone new.
For more information, visit GlobalSecurity.org


. . . . . . . . . . . . . . . . . . . . . . . . . . . . . . . . . .

Camp Arifjan, Kuwait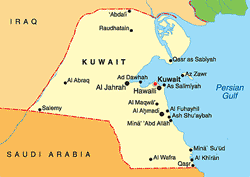 Thank you to our friend Cody who wrote in and asked for more information about Camp Arifjan, Kuwait.
Camp Arifjan is a new base in southern Kuwait. The base was built in the middle of the desert and is mostly surrounded by sand. Before Camp Arifjan, there were temporary and makeshift facilities that were less safe and less comfortable.
The soldiers live in barracks, which are quite comfortable compared to many of the others in Kuwait and Iraq. There are many places to eat on base. There is a dining hall where soldiers can come for regular meals and dessert, including a fruit bar and an ice cream machine. There is also a food court with fast food options like Burger King, Pizza Hut, a donut shop, and Subway.
When soldiers have a break from work there is a lot for them to do. There is a place called Club Mirage that serves free snacks, shows movies throughout the day, has a game and reading room, and has games and equipment available for check out. There is also a library and a gym where soldiers can play basketball, racquetball, volleyball, or just exercise.
There are two small post exchanges on base. They have most basic items, such as soap, shampoo, cleaning supplies, and CDs, and they also have clothing and household items. There is also a Laundromat, barbershop, post office, and video store.
Another great thing soldiers can do on this base is go to college. There is a special education center that allows soldiers to take classes on the computer.
Even though it is hard to be away from home, soldiers at Camp Arifjan are fortunate to have many of the things that make them comfortable and remind them of home.


Camp Bondsteel, Kosovo


Thank you to our friend Janelle who wrote in and asked for more information about Camp Bondsteel, Kosovo.
Camp Bondsteel is the largest base in the Kosovo area. It is named after Army Staff Sgt. James Bondsteel, who won the medal of honor. There are about 7,000 troops stationed there. The base is 955 acres. If you wanted to run around the whole base it would be about 7 miles.
When the base was first opened soldiers lived in tents and it was the middle of the winter! The military got to work quickly and built the entire base in three years. One of the first things they built were SEA (Southeast Asia) huts for soldiers to live in. There are about 250 of them at Camp Bondsteel. Inside each hut, there is space for six soldiers to live. They are very comfortable with heat, air conditioning, hot water, electricity, a large bathroom, and telephones. Camp Bondsteel also has 11 watchtowers,a well-equipped hospital, and space for 55 Black Hawk and Apache helicopters.
Soldiers at Camp Bondsteel are very busy supporting many peacekeeping missions in the area but when they are not working there is plenty to do. It is important for soldiers to be able to relax and enjoy themselves when they have time off. Camp Bondsteel is so big that it has a downtown, midtown and uptown, shopping, 24-hour gyms, two chapels, and a library. There are two dining facilities with lots of food, including salad bars, potato bars and desserts. There is food available 24 hours a day so soldiers never have to be hungry. There is also a Burger King, pizza restaurant and coffee shop on base. Soldiers can buy nearly anything at the PX -- from CDs to TVs to clothes.
The event calendar at Camp Bondsteel is full of many activities, such as movies, visits from local children's choirs, pick-up basketball games and chess and ping-pong tournaments. Soldiers also have opportunities to take classes at the base, offered by the University of Maryland and Chicago University.
After they have been there for 30 days, soldiers are eligible, with their commander's permission, to get a pass to visit Sofia, Bulgaria. There, soldiers can sightsee, learn about the culture, buy souvenirs and eat local food.
For more information, visit GlobalSecurity.org.