Distance Calculator
Use this calculator to find out the approximate distance between a city near you and a city near your deployed loved one.

Write down the number of miles on a piece of paper. Even though you may have to cross an ocean, you could have some fun figuring out other distances too:

> Divide that number by 60 to see how many hours it would take you to get there by car (on a highway)

> Divide the number by 10 to see how many hours it would take you to get there by bicycle.
Time Zones
Use this time zone chart to find out what time it is for you now and what time it is for your deployed person. How many hours difference is there between the two of you?
When you are eating breakfast, what is your deployed person doing?
When you are getting ready for bed, what is your deployed person doing?


Common Deployment Locations
Look here for interesting information about some of the places to which American military deploy. Locations in Deployment Journal for Kids include: Afghanistan, Germany, Hawaii, Iraq, Japan, South Korea, Kuwait, and being afloat on a ship.
Additional spotlight locations

Location Spotlight:
Al Udeid, Qatar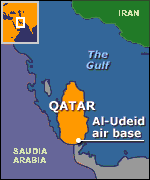 Thanks to Dean and his Mom for the great question about Al Udeid and Qatar!
Al Udeid is an Air Base located 20 miles outside the city of Doha in the country of Qatar. Al Udeid now has several thousand military members serving there, but it used to have less than 50, with just a few warehouses and a runway. Today it could hold up to 10,000 people and 150 aircraft if needed. These changes cost over a billion dollars to make, but has helped the men and women at Al Udeid fight in the global war on terrorism and continue their humanitarian efforts to the people of Afghanistan. The changes have also made life more comfortable for those serving at Al Udeid. They have air conditioned tents, basketball courts, movies, and even swimming pools-- a wonderful thing during the long hot summers in Qatar!
The country of Qatar is a peninsula in the Persian Gulf known as "The Pearl of the Gulf." Qatar is about the size of the state of Connecticut and its capital, Doha, is located on one of its shallow harbors. Doha is a modern city with many American restaurants such as Chili's, Kentucky Fried Chicken, and Johnny Rockets. The culture is very mixed; you can see people wearing jeans and T-shirts or more traditional Muslim clothing. When service members aren't working hard and may leave post, they can go to many of the stores, or souqs, and take a stroll along the beautiful waterfront. In addition to Al Udeid, there are other bases in Qatar such as Camp Snoopy and As Sayliyah, where many people come from Iraq to rest for a few days.
So as you can see, time at Al Udeid can be full of many different experiences but it also has a few things to remind service members of home, too.
Want to learn more?
More military information about Al Udeid.